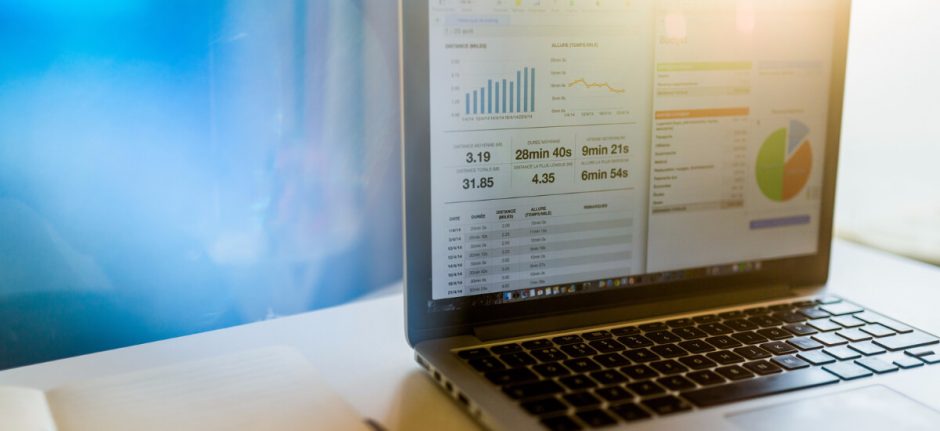 Measuring social media ROI is key to securing buy-in and budget for your social marketing strategy. It also shows you what's working and what's not—allowing you to shift resources and tactics to be more effective.
In this post we'll give you the tips and tools (including a free ROI calculator) you need to prove and improve social ROI.
Table of contents
Bonus: Download a free guide and checklist to help you convince your boss to invest more in social media. Includes experts tips for proving ROI.
What is social media ROI?
ROI stands for "return on investment." What that means for your social media strategy depends on your organization's objectives (brand awareness, revenue, customer satisfaction, etc.). But, generally speaking, social media ROI is the sum of all social media actions that create value. After all the time, money, and resources put in—what's the return?
If you were measuring ROI by revenue, for example, a simple formula to do that looks like this:
Revenue / investment (people hours, ad budget, etc.) X 100 = social media ROI (as a percentage)
So, if you made $1,000 in revenue from social media on a $500 investment, your profit is $500 (remember: profit = revenue – investment). And then your calculation would be: $500 profit / $500 investment X 100 = 100% return on your investment.
But that's not a catch-all formula for proving social ROI. Again, there isn't one definition (here are a few more common social ROI formulas).
Not every organization will be able to attribute revenue directly to social media. Nor should they. Value isn't always measured in dollars and cents. Tethering ROI to such a strict definition prevents you from identifying other ways an investment might be paying off.
If your goal is to drive brand awareness, you would measure success against metrics such as audience reach and engagement, not profit.
If you're not sure what to measure, ask yourself what kinds of things your target audience did after exposure to your campaign. Did these actions align with your goals? Where did they fall short? How can they be improved for next time?
If you need another way to consider your social media ROI, think about the ratio between gain and cost, which includes things such as:
Labor
Training
Development
Social media technology
Agencies and consultants
Social media advertising budget
Business overhead
To calculate the value of certain actions (purchases, page views, downloads, sign ups, etc.) look to analytics to determine which ones came from social media. This helps you define your social media ROI and prove the value to your organization.
Ready to get the most out of your social media strategy? Watch our three-part webinar series and learn everything you need to know about proving and improving social ROI.
Why you need to prove ROI
Talk is cheap. Sure, you could tell your stakeholders or clients about the value of social and why they must invest in it—but nothing will convince them more than data.
When there are measurable and specific outcomes, people take notice.
Measuring social media ROI is important for many reasons, including, but not limited to:
Can change the perception of social within your organization
Shows the potential impact social can have across the business (not just marketing)
Shows you where your efforts and resources are being used most effectively
…And when they're being wasted, so you can shift tactics as needed
Helps you better understand your audience (what they care about, what they respond to, etc.)
How to measure social media ROI
While it's great to set social media goals and act on them, your job isn't done until you've proven the value of your efforts.
Social media spending in the United States alone is expected to hit $17.34 billion in 2019. Still, only a fraction of marketers say they are able to prove its value.
To do it yourself, you need to follow three simple steps.
Step 1: Have clear objectives
Brand awareness created by social media (shares, likes, followers etc.) is valuable, but not always enough.
According to Altimeter, only 34 percent of organizations feel that their social strategy is connected to business outcomes. To show value, you need to set social media objectives that are aligned with business and departmental goals.
Your social media objectives could be based on:
Business conversions (such as customer acquisition or lead generation)
Brand awareness or perception
Customer experience
Security and risk mitigation
Step 2: Set smart goals
Your objectives represent what social media will help your organization achieve. Once those are established you need to set goals, which represent how and when you're going to achieve it.
Here are a few simple examples: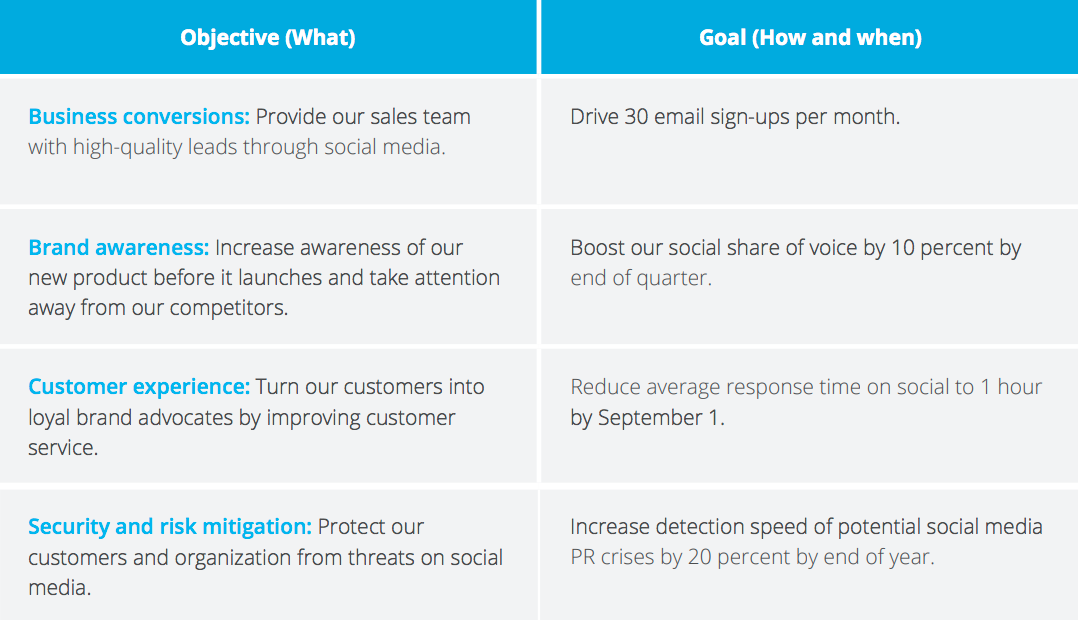 If you need help setting goals, we recommend using the S.M.A.R.T. framework. Here, each goal must be specific, measurable, attainable, relevant, and timely.
For example, rather than saying that you want to improve customer service on social media, set a number and a deadline. So, for example: 'We will speed up our first response time by 10 minutes by the end of the year.'
If your objective is to grow conversions, a good goal might be a specific number of leads you want to drive via social for the quarter.
Another example of a business conversion goal would be increasing landing page conversions by 10 percent. You would measure this by tracking the conversion rate of people who land on the page from social channels.
Whatever the goal, be sure to measure past performance to establish benchmarks. And then set targets for improvement.
For more on this, check out our step-by-step guide to setting smart goals.
Step 3: Track the right performance metrics
You need social media metrics to determine whether you're achieving objectives and meeting your goals.
So-called "vanity" metrics—such as likes, comments, and shares—get a bad rap, but they have value. Use them to…