Since the launch of LinkedIn native video in 2017, LinkedIn has proven that it's more than just a platform for long-form B2B content.
In one year, LinkedIn video posts generated more than 300 million impressions on the platform. They also earn an average of three times the engagement of text posts. Plus, early findings from LinkedIn's beta program show that LinkedIn native videos are five times more likely than other content to start a conversation among LinkedIn members.
Impressive engagement stats aside, video marketing has been shown to boost revenue across social platforms. According to Aberdeen Group, brands that use video marketing grow their revenue 49 percent faster than companies that don't.
Ready to get on board yet? This guide will cover everything you need to know about LinkedIn video, from the basics on how to use LinkedIn native video, to technical specifications.
And if you're looking for that spark of inspiration, scroll down for a round up of examples and ideas.
Types of LinkedIn video
Embedded videos
It's still common practice for many brands to upload to a video-hosting platform such as YouTube or Vimeo, and then share the link on LinkedIn. This works, but for many reasons, LinkedIn native videos tend to be a more effective strategy.
LinkedIn native video
"Native video" is video that is uploaded directly to LinkedIn or created on the platform itself.
Unlike embedded videos, LinkedIn native video autoplays in-feed, which is more likely to grab attention. Metrics show that Facebook native videos garner 10 times more shares than linked videos, a boost that likely also holds true for LinkedIn native videos.
LinkedIn video ads
LinkedIn video ads are sponsored company videos that appear in the LinkedIn feed. Video ad campaigns have greater potential to increase brand awareness, brand consideration, and lead generation since they are typically served to a larger, more targeted audience.
Unlike LinkedIn native video, which can be a maximum of 10 minutes long, LinkedIn video ads can run for up to 30 minutes.
Company page administrators can set up a video ad campaign using Campaign Manager, or elect to sponsor an existing post.
How to use LinkedIn native video
On desktop or mobile, sharing LinkedIn native video is pretty much a three-step process. Mobile allows you to record and post in-app and add text and stickers, whereas desktop requires a pre-recorded video.
On desktop:
1. From the homepage, click Share an article, photo, video, or idea.
2. Click the video icon.
3. Upload the video you want to share.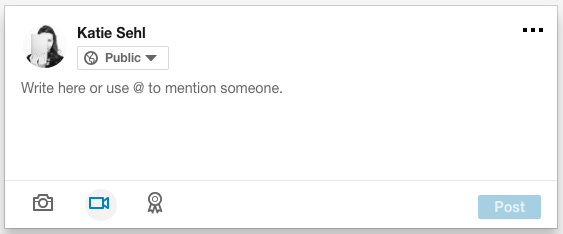 On mobile:
1. Look for the share box (iOS) or post button (Android) at the top of the feed.
2. Tap the video icon.
3. Record a video in the app, or upload something you re-recorded.
4. Tap the filters or text button.
5. Add filters and/or text.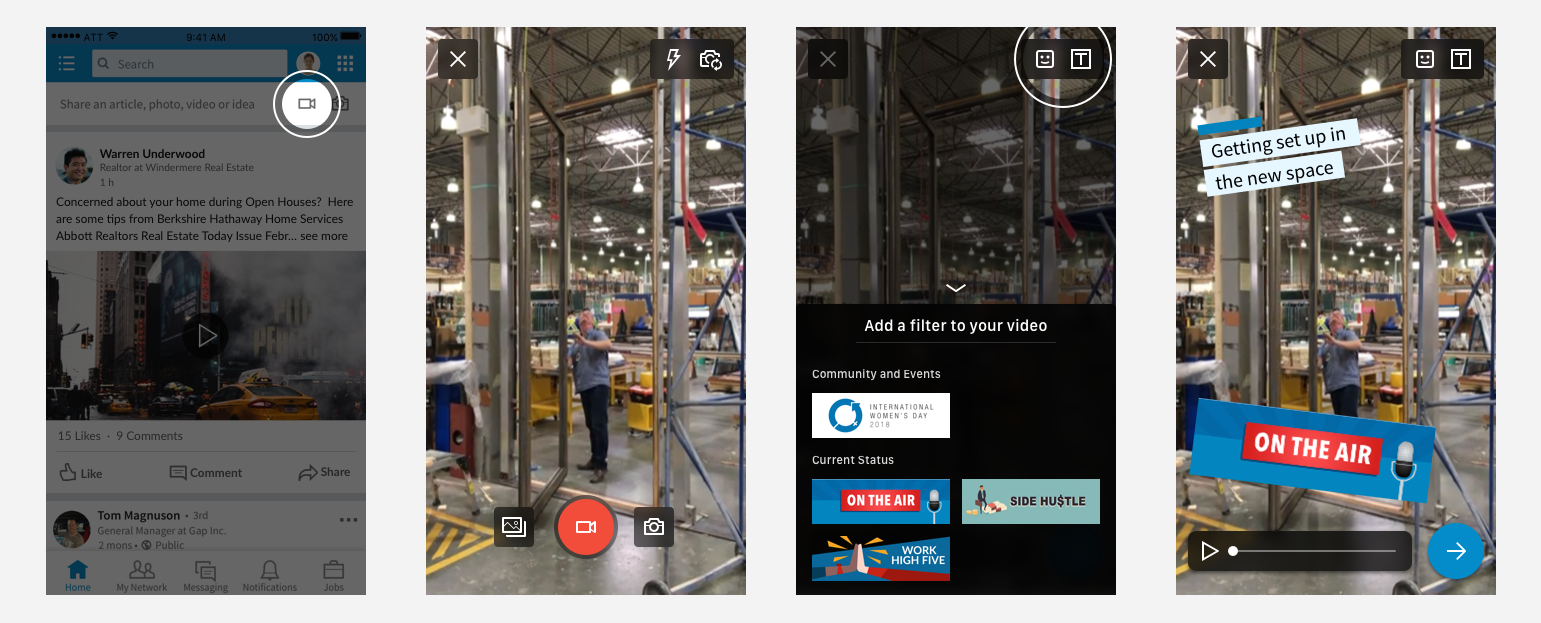 After posting a video you'll have access to audience insights, including how many views, likes, and comments your post is receiving. You'll also be able to see the top companies, titles, and locations of viewers. Learn which video metrics matter most.
How to launch a LinkedIn video ad campaign
Here's a quick guide to setting up a LinkedIn video ad campaign:
1. Log in to Campaign Manager to create your campaign.
2. Select Sponsored Content.
3. Name your campaign.
4. Choose your main objective. Options include: get website visits, collect leads, or get video views.
5. Select video as your ad type format and click Next.
6. Click Create new video.
7. Fill out the form, upload your video, and hit Save.
8. After your video has uploaded, select the video by clicking the checkbox next to it and then hit Next.
9. Choose your target audience criteria and click Next.
10. Set up your bid, budget, the duration for your campaign, and click Launch Campaign.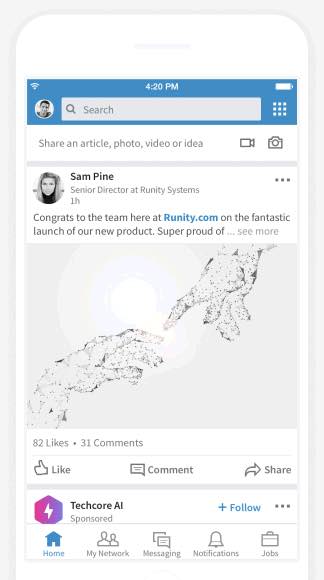 LinkedIn video ads provide richer analytics than LinkedIn native video. Learn more about LinkedIn video ad analytics here.
LinkedIn video specs
Plan and adhere to these technical specifications when creating video for LinkedIn.
These specifications vary between standard native videos and LinkedIn video ads, so make sure to take note of the difference.
LinkedIn Native Video Specs
Minimum video length: 3 seconds
Maximum video length: 10 minutes
Minimum file size: 75KB
Maximum file size: 5 GB
Orientation: Horizontal or vertical. Note: Vertical videos are cropped into a square in the feed.
Aspect ratio: 1:2.4 or 2.4:1
Resolution range: 256×144 to 4096×2304
Frame rates: 10 – 60 frames per second
Bit rates: 192 kbps – 30 Mbps
File formats: ASF, AVI, FLV, MPEG-1, MPEG-4, MKV, QuickTime, WebM, H264/AVC, MP4, VP8, VP9, WMV2, and WMV3.
Formats that are not supported include: ProRes, MPEG-2, Raw Video, VP6, WMV1as.
LinkedIn Video Ad Specs
Minimum video length: 3 seconds
Maximum video length: 30 minutes
Minimum file size: 75KB
Maximum file size: 200MB
Orientation: Only horizontal. Vertical videos are not supported by LinkedIn video ads.
Pixel and aspect ratio:
360p (480…